Meet The Team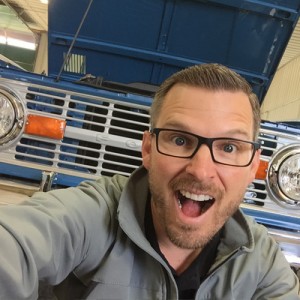 Erik Maxlider - CEO
Erik is married to a beautiful woman named Bridget and they have 3 blonde kids (Kaylor 15, Ashlyn 7 and Rowen 5).
He has had the early Bronco and classic auto bug since 1988 when his older cousin bought a 1975 Bronco and dismantled it in the back of his garage. Erik and his younger brother, Kris, would beg their parents to let them go to cousin Rick's house so they could oogle over the truck. As a 14 year old, Erik was smitten. He was a drawer and would draw monster truck Broncos that he would post all over his bedroom.
Love at first sight.
Erik's & Kris' mom is an accomplished music instructor and their second love has always been music.  In 1999, they started a rock band called MAXLIDER. Erik was the lead singer and manager and Kris was a guitarist.  Fans and friends started calling them, Erik Maxlider and Kris Maxlider and those names kind of stuck.  They were almost signed after placing 4th in the United States and winning, "Best Sound & Stage Show" in 2005. Unfortunately, just after the awards, the band fell apart and it became obvious The Lord had other plans for the Maxlider Brothers.
When the band broke up, Erik and a few friends started a technology company called Mavidea, where he currently serves as its CEO and Chief Culture Officer. Mavidea builds websites, does internet marketing and manages IT infrastructure for small businesses. They have been super blessed over the last 9 years and Mavidea is now providing their technology services to clients all over the country.
With Mavidea growing and thriving, Erik & Kris decided to re-launch the Maxlider brand and take it in a little different direction.  Broncos were an obvious choice because the market for their childhood icon was on the verge of exploding.  The timing proved to be perfect.  With some investments from family and friends, they opened an 8,000 sq. foot shop focused solely on the sales and restoration of Ford Broncos. 
They have certainly been blessed over the last 4 years...and have helped almost 300 people find the Bronco of their dreams!  
Now, they have 6 full time and 2 part time employees and continue to grow quickly.  Erik attributes the fast growth to their consistent use of Social Media and a relentless focus on maintaining a great reputation.  If you have seen their Instagram & Facebook videos, you'll notice Erik running around singing and acting like a 14 year old boy again...it's obvious he is having the time of his life....and so are their employees! I'm not in it to get rich, just to build great relationships with people. "We will work really hard to serve our customers and help them get the best Bronco they can afford. We want to do it right...by doing the right thing," says Erik, "each new customer doesn't represent a just a sale, but another opportunity to earn a long term relationship".
 
If you are seeking a Bronco or want to build one, they would love a chance to earn your trust.
Call, text or email them if you are looking for a Ford Bronco.  Check back to the website regularly because the inventory changes DAILY.
Call or Text:  331-308-BROS (2767)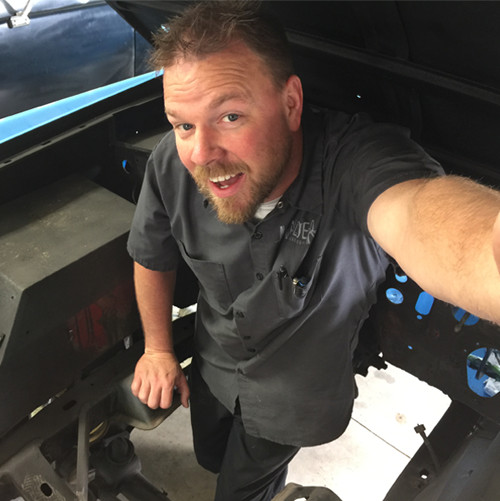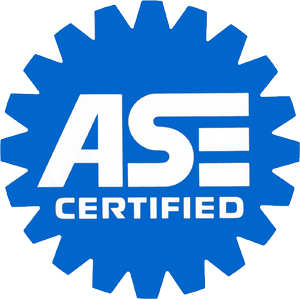 Kris "Don't call me Butch" Maxlider - General Manager & Head Technician
Most people don't know this...Maxlider Brothers Customs was actually his idea and he co-owns the business.
With a family history filled with Ford workers and technicians, Kris followed in their footsteps.  He attended the Ford ASSET program during college and then spent 16 years at a Ford Dealership where he earned all of the ASE Senior Master Ford Technician certifications.  Kris then spent 4 years at a BMW Dealership before coming to work full time at Maxlider Brothers Customs.
Kris was the rhythm guitar player in Maxlider (the band) and performed a lot of back up vocals.  Fans loved his on-stage energy and antics.  His tongue became legendary and once made Gene Simmons bow in respect.
Kristopher is a walking one-liner and his quick-wit keeps us laughing throughout the day in the shop.
Today, Kris manages the shop and demonstrates a lot of patience while working with his brother.  He says he deserves some kind of trophy or award for that...perhaps a button.
Family:  Colleen - wife, Shay - 4
Favorite Movie:  Army of Darkness...give me some sugar, baby!
Favorite Song:  Every Rose Has its Thorn - he used to sing it at Maxlider shows
Most embarrassing moment:  Kris never has an embarrassing moment...he's kind of like the Most Interesting Man in the World dude on the Dos Equis commercials.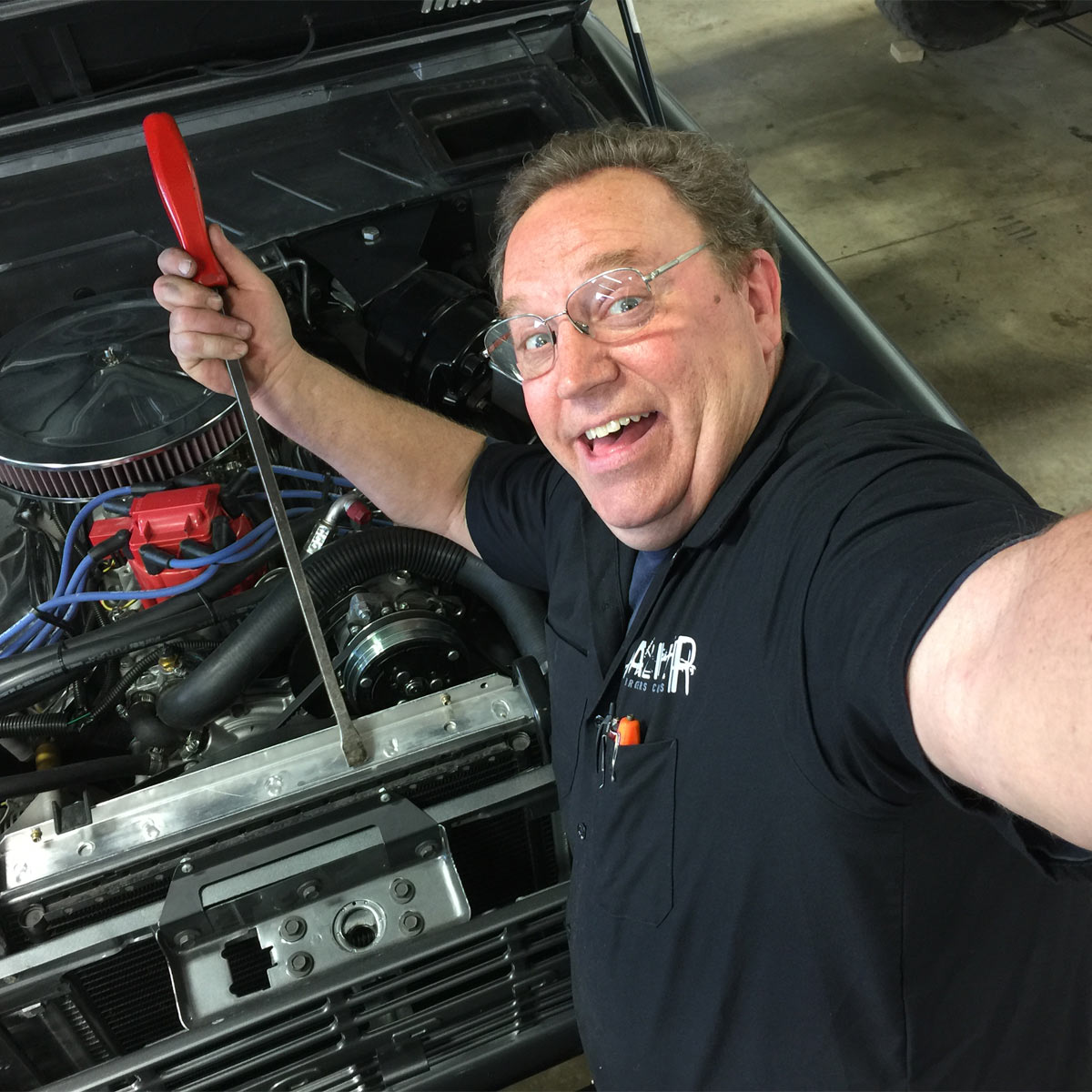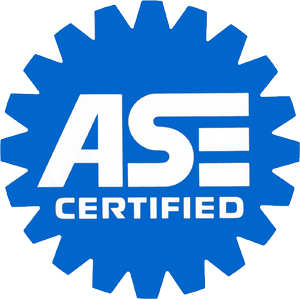 Rick "The Cousin" Conrad
Remember cousin Rick?  (He's to blame for this whole Bronco-thing)  Well, he is now fulfilling his own lifelong dream of building Broncos at Maxlider Brothers Customs.  It's a family affair with these guys!  Rick and his wife, Maria, relocated to Hudson, IL to be closer to the business.
Rick has been a Senior Master Ford Technician in a dealership for over 35 years and brings a ton of experience and talent to the team.  He has had Broncos, Torinos, Rancheros, F100's and more...a lifelong classic Ford man.
Rick has 3 grown children and is now a Grandfather.  Funny thing is, he has never felt younger or had more fun!
Family:  Maria (wife), Drew, Dustin & Rachel (children)
Favorite Movie:  Star Wars
Favorite Song:  Anything by MAXLIDER (the band)
Most embarrassing moment:  Every time he gets on a basketball court during a family reunion.  He likes to lay on the ground a lot.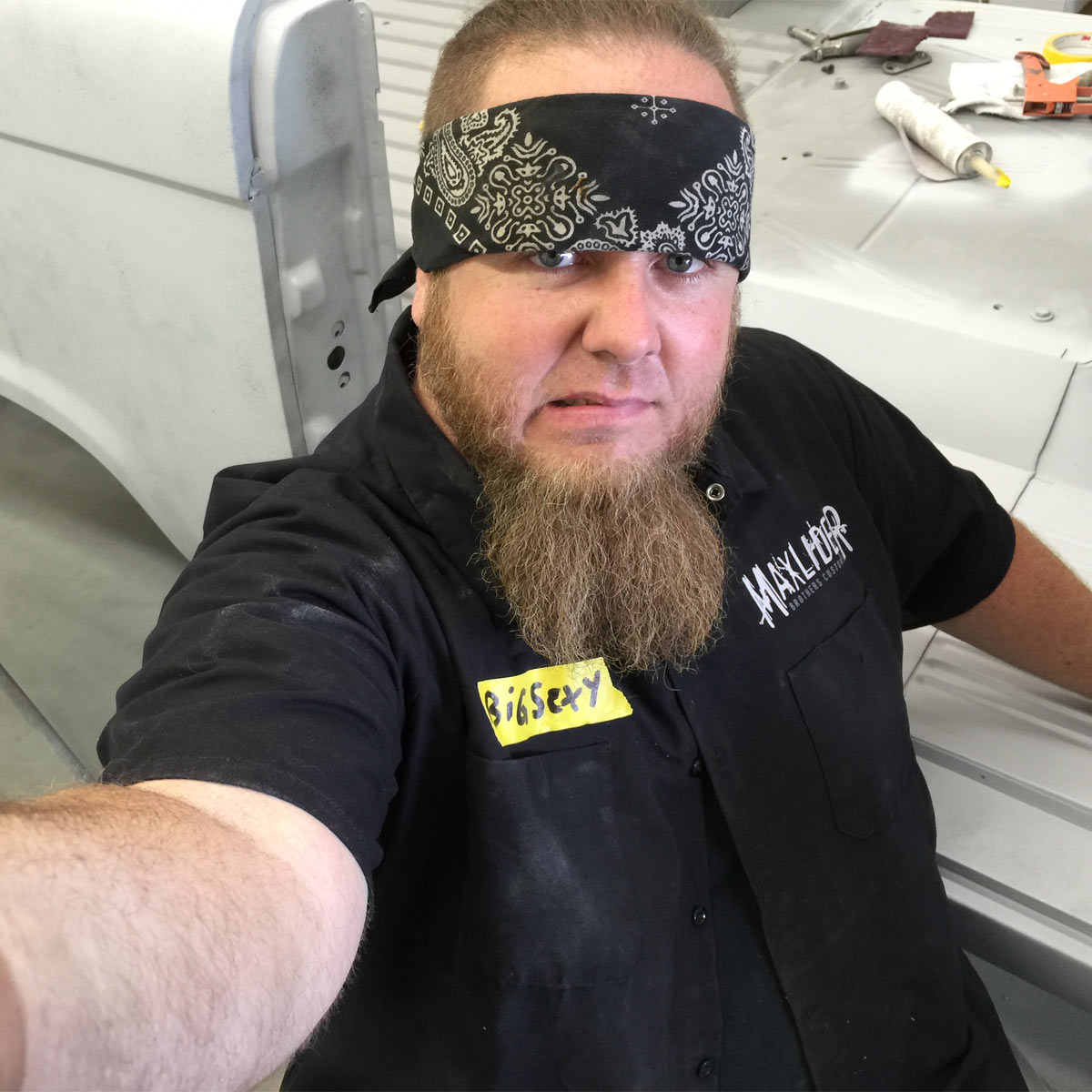 Dan "Big Sexy" Gash
"Big Sexy," (he likes to be called that...just let it go) has made a big impact on the body shop at Maxlider Bros.  He has a knack for making these old Broncos straight and is Keith's right hand guy.  They make a great pair and can generally be found welding, sanding, banging a hammer or making fun of each other.
He's a great guy and contributes to the laughter inside the shop.  He's always got a huge smile on his face (which is why we made him toughen up for his photo...it took him 5 takes to figure out how to look mean) and is genuinely a great guy.
Dan is also a musician and has been a Pastor at different points in his life.  He and his wife enjoy making an impact at their church and have opened their home to foster children over the years.
Family:  JoHanna (wife)
Favorite Movie:  Smokey and the Bandit
Favorite Song:  Anything by 9mm (his old band)
Most embarrassing moment:  Nothing embarrasses Dan.  Impossible.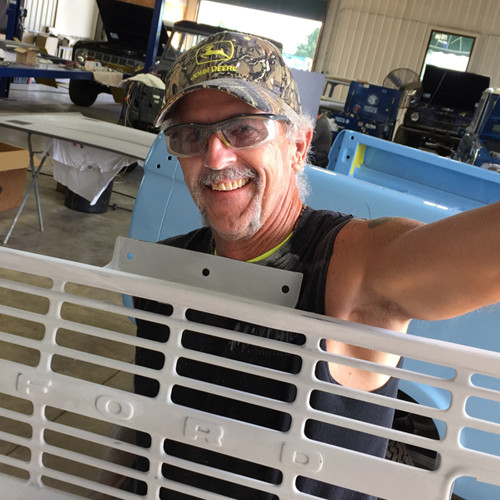 Keith "Lil' Sexy" Mortimer
With over 30 years experience, Keith is the lead body and paint man.  He is nothing short of AMAZING at his craft.  If you don't believe that, just inspect the perfect lines he creates on these old Broncos!  On top of that, he can lay down paint with the best of them.  We are blessed to have Keith on the team...his leadership, work ethic and attitude are examples for everyone to follow.
Family:  Kathy - wife
Favorite Movie: Anything with Clint Eastwood...or Betty White
Favorite Song: Rhinestone Cowboy
Most embarrassing moment:  Every time Erik puts his videos up on Instagram.  Keith is becoming quite the Internet sensation, so make sure you check him out for Bronco body tips and tricks!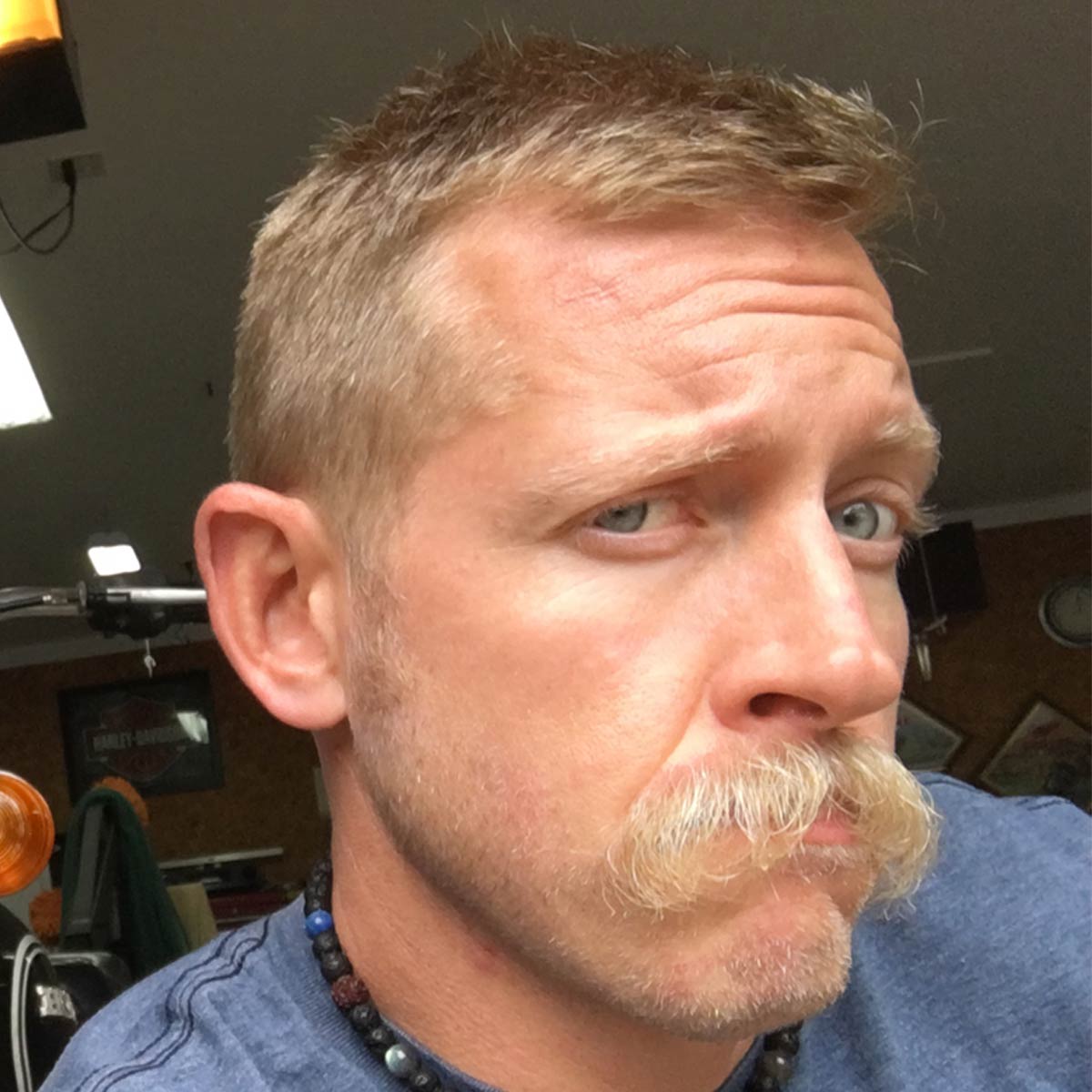 Adam "The Steuckanator" Steuck
You can often judge a man by how well he rocks a mustache.  Well, it's obvious, Adam is the king.  When he's not brushing his facial hair, he's developing his beach body.  When he's not working out, he is often building stuff at Maxlider Brothers.  He's a jack of all trades and master of most of them, too.
Adam is a drummer.  Most people don't know this...he and Kris started a band back in 1999 called, "Poverty," and that band eventually changed its name to "Maxlider," when Erik joined the band.  Adam is featured on Maxlider's first album, "Knuckle Sandwich".
Family:  Sarah
Favorite Movie:  Cannonball Run
Favorite Song:  Anything by MAXLIDER (when he was the drummer, of course)
Most embarrassing moment:  He's had several sets of front teeth...but we'll let him tell you that story over a beer.  🙂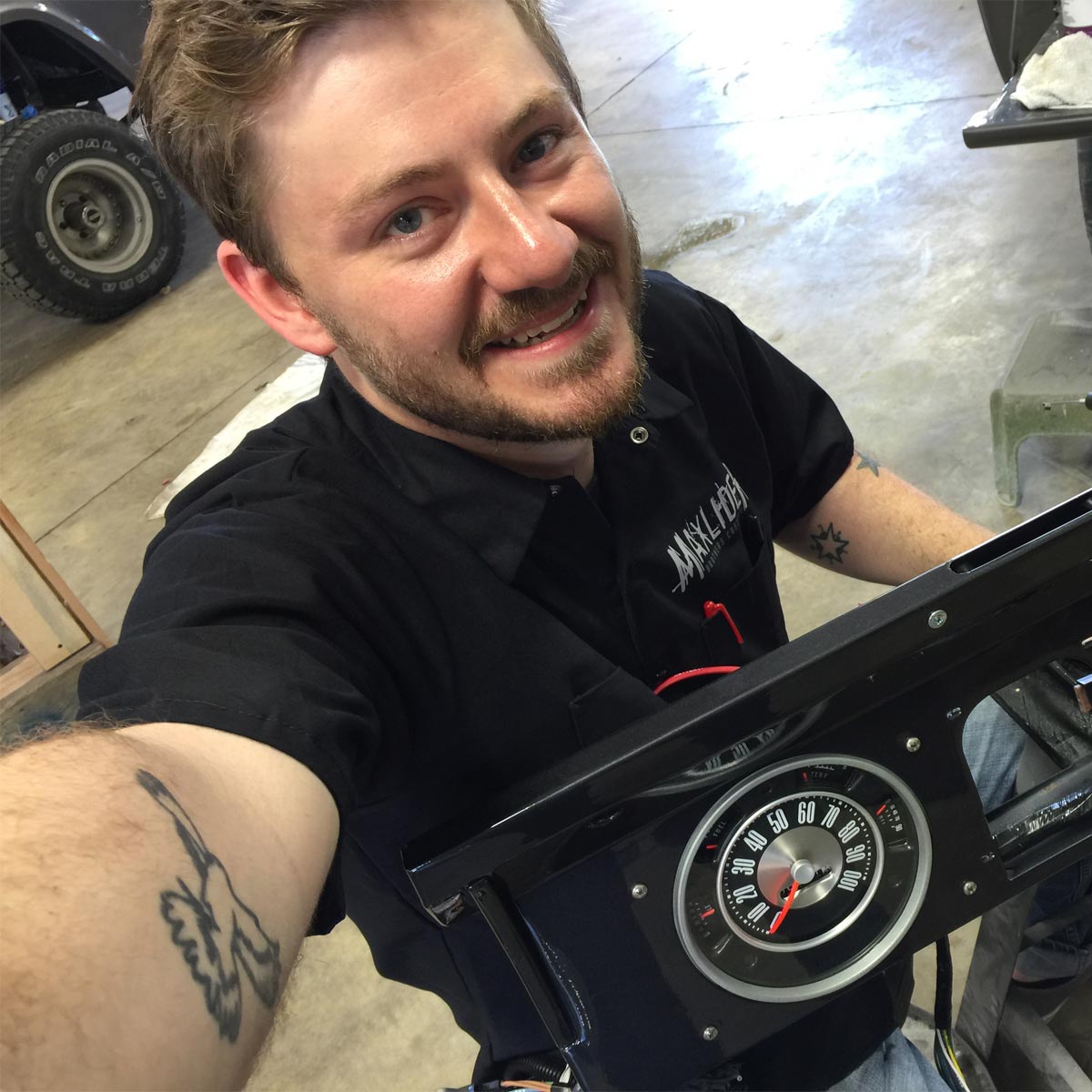 Alexander "Don't Call Me Alex" Hackel
Al (don't call him Alex, Erik!) is a gifted fabricator and musician.  He has combined both talents by making custom brass instruments when he isn't assembling or building something at Maxlider Brothers.
Al made an immediate impact on the shop and the quality of product built by the company.  His attention to detail and creative problem solving was the perfect compliment to an already talented team.
Most importantly...he's a natural on camera...make sure you watch every video Erik forces him to "star" in.
Family:  Jennifer (fiance)
Favorite Movie:  The Good, The Bad, The Ugly
Favorite Song:  Anything produced by an instrument he built with his own hands!
Most embarrassing moment:  Every time Erik calls him, "Alex" ...Erik should really get it together.
Alex "I Wanna Be Erik" Hopper
Alex is an assistant to both Erik and Kris.  He's been added to the team to help the Maxlider Brothers keep up.  Alex is young, but probably more mature than most of the other guys on the team!
He manages the t-shirt sales, keeps receipts and spreadsheets organized, runs a lot of errands and babysits Erik most of the day.  It's a dirty job, but someone has to do it.
Family:  Mom & Dad Hopper
Favorite Movie:  Zoolander 2
Favorite Song:  Normal West Wildcat Fight Song
Most embarrassing moment:  Getting called, "Mini-Erik"...who wants that?!?!?