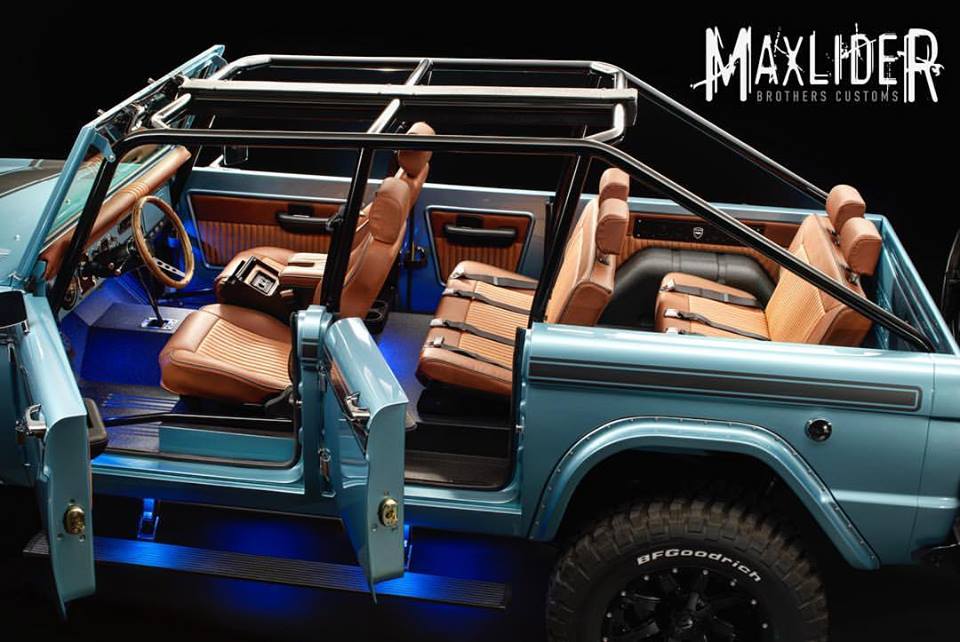 The Ford Bronco was launched in 1966 as a 2-door, 4-wheel-drive, off-road beast. Ford wanted a sporty 4×4 that piggy-backed off the wildly successful Mustang that was launched nearly 2 years earlier.  They quickly developed a cult-like following, but didn't become wildly popular until 10 years ago when American's seemed to rediscover the early Bronco design and builders began modernizing the vehicle.
With around 150,000 first-gen (1966-1977) Broncos left, many hidden in barns and backyards, the original Bronco is rare. The rarest form of an original Bronco is one with 4-doors. Why? Because Ford never manufactured a 4-door Bronco.
A couple of years ago, Maxlider decided to create our own 4-door Ford Bronco. With only a couple other shops daring to create a custom Bronco with four doors, Maxlider Brothers Customs decided to create the best custom 4-door Ford Bronco.
The Maxlider 4-door Ford Bronco build includes:
1966 Ford Bronco frame
6-Speed overdrive transmission
Ford Performance Coyote Engine 5.0L (670 HP)
Uncut rear ¼ panel
Modern seats and seatbelts
A true roll cage
Yukon Gear Axles
Roush Supercharger
Over 4,000 man hours have been put into this new Ford Bronco, with the goal of making it a statement piece. We have been fortunate to have amazing sponsors for this build, including Roush Performance, Yukon Gear & Axle, Currie Industries, Brembo Brakes, EPAS, Centech, MPT Custom Tunes, Wildhorses 4×4 and countless others! It is truly a work of art.
Car and Driver recently featured our 4-door Ford Bronco on their blog. Read the article here!
Come see the Maxlider Four Horsemen Ford Bronco at SEMA 2017 in Las Vegas, Nevada October 31 – November 3 at the Las Vegas Convention Center. Read more about the 4-door Ford Bronco and see additional pictures here, and make sure to follow Maxlider on Facebook and Instagram.