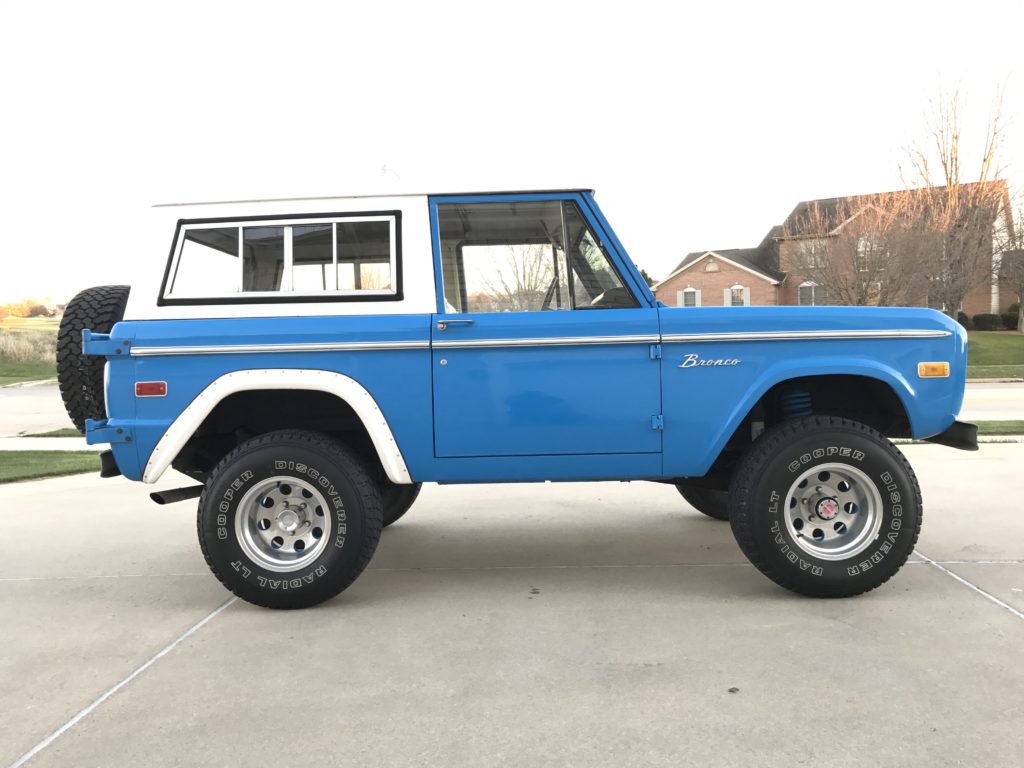 By Maxlider's Erik Maxlider 
The classic Ford Bronco is one of the most complicated simple vehicles ever built and had been one of the most sellable cars back in the 90s ten years after Ford owned stake in Mazda in 1979. Basically, it's a drivable antique sculpture…and Bronco enthusiasts want to drive them as much as they can! Depending on the year, where it was built, who has worked on it since, and the time and care (or lack of) that went into it, two seemingly identical Broncos could be worlds apart when it comes to value, drivability and reliability.
At Maxlider Brothers Customs, our business is buying, restoring, and selling Broncos. But believe it or not, I've talked more people out of buying a classic Bronco than I have convinced to buy one. We want you to understand what you're buying and be 100% sure that you will absolutely fall in love with it when it arrives. Before you buy one, here are eight things you need to consider when planning to buy a classic Ford Bronco:
Classics are different
Money seems to spend faster on a classic car. Not only will repairs and upgrades be more expensive, but the quality and condition of an early Bronco will also be different than the modern vehicle you drive each day.  As a result, there will be more surprises to overcome when maintaining or upgrading your classic Bronco.
First-generation Broncos were designed over 50 years ago and built with parts that are now over 40-years-old. Cars and trucks made half-a-century ago weren't built for the way we use vehicles today. An antique Bronco wasn't designed to be a worry-free daily driver by today's standards, and likely won't be without a six-figure investment.
They are absolutely amazing toys worth showing off to the entire world, and we love them to death, but turning a first-generation Ford Bronco into something you can commute 30 miles to and from work each day can only be accomplished through a significant investment with a professional Bronco builder.
Condition
Much of the value of the classic Ford Bronco is found in the condition of the metal body and its paint job.
As a result, the body of the Bronco you select should be in incredible shape. A couple of dents and a little rust will cost you thousands of dollars to repair. You need to know the shape of the body, if and where there's rust, and any other details of its history you can get your hands on in order to make an informed decision.
We source our Broncos from salt-free states, so the condition of the metal bodies are typically much better than what you may find on eBay, Craigslist or Facebook Marketplace.  Broncos that spent their lives in the Midwest and Northeast are usually filled with patched-up rust repair and excessive body filler.  Stay away from those!
Seating
Fitting comfortably behind the wheel of a classic Ford Bronco is really important to the driver!  Most people don't realize that if the driver is over 6' tall, he/she will have a hard time with comfort and visibility when driving.
The stock style Bronco seats that came from the factory look pretty cool, but they sit up too high and feel uncomfortable.  You can't recline the stock seats and they don't slide forward or backward to create adequate leg space.  They also lack headrests, so a rear impact from another vehicle can do a lot of damage to your neck and spine.
Seat belts can also be a concern.  Remember, there are no air-bags in classic vehicles and the factory lap belts won't protect your face.  To provide the safety you need, you should have modern shoulder-style seatbelts in the front seats!
Only a seasoned Bronco shop understands what it takes to address all of these aspects of seating.  At Maxlider Bros., we have developed a specific recipe to provide comfortable and safe seating for drivers of all shapes and sizes.  Lots of adjustability, lots of comfort and most importantly, the added safety belts you want for you and your family.
Transmission
In 1965, the first-generation Bronco was designed to drive 55 MPH down a 2-lane road because freeways and interstates didn't exist.  The stock transmissions in those Broncos only had 3 gears and they topped out around 60 MPH.
If driving 65 MPH (or more) on a freeway is important to you, the Bronco will need a modern transmission with more gears to allow for higher speeds.  This can only be done by a seasoned Bronco shop that understands the intricacies of the project because there are many other aspects of the Bronco to consider when making this upgrade!
Whether you want a 5-speed manual or automatic with overdrive transmission, we have you covered.
Repairs & maintenance
As mentioned above, you have to maintain a sense of humor when owning any classic vehicle…not just a vintage Bronco.  Broncos are known for their unpredictable personalities and each one is unique.  Don't get me wrong…nothing is more fun to drive and my family has a lifetime of great memories made with our old Broncos, however, you have to be prepared for the occasional repair or adjustment when you own one.
Finding a local mechanic who can help with your classic Bronco when needed is important, but not all mechanics are created equal…and they are almost never Bronco specialists.  We help our customers find a mechanic in their area and we work with them directly when needed to get the right diagnosis and parts for the repair.
Turnaround time & budget
You have 2 paths for obtaining a Bronco…restoring one or buying one that has already been built.  As you would guess, there are advantages and disadvantages to both options.
Restoring a classic car takes hundreds of man hours, tens of thousands of dollars in parts, and a lot of time. If you plan on having a Bronco restored or built from scratch, work with your shop to get an accurate assessment of when the build will be completed. If you don't want to wait six months or even a year or two for the restored beast of your dreams, there is another option.
Buying a Bronco that has already been built can be a great option to save valuable time and money. An experienced Bronco shop can help you identify ways to customize and upgrade the Bronco to fit your goals and budget.  This option is definitely faster.
We designed our business model to help both types of customers.  Today we sell a wide range of Broncos from $25,000 up to $500,000 and commonly work backwards from the customer's budget and timeline to help them design the best plan for them.
Who has worked on it
Broncos have been in the Maxlider Brothers Customs family since 1966 when our Uncle Dick bought the very first Bronco sold at our local Ford Dealership! We have been working on them since that time and we remember when no one really cared about them.  Broncos were utility vehicles and people just didn't spend money on fixing them up like they did Mustangs or other classic cars.
About 10 years ago, that all changed…the first-generation Broncos were rediscovered and suddenly they began appearing in country music videos and seen in the the media being driven by A-list celebrities.  Considered by many on social media as the "Bronco Experts," our little shop exploded with business!  Since then, we have been working with customers to transcend the classic Ford Bronco into a high-performing modernized vehicle.
Because we have been blessed with a front-row-seat to the Bronco marketplace for over 50 years, we can tell you that the durability and value of the Bronco is impacted by who has worked on it (shop and/or mechanic).  There are a lot of mechanics out there who have general automotive experience, but really don't understand the first-generation Bronco. As a result, they guess a lot when repairing or upgrading the Bronco.  Yikes!
Maxlider has four Master Level Technicians on staff, two of which who are also Ford Certified Master Level Senior Technicians. Whether it is us, or another Bronco specialist, get them involved early and often in your Bronco journey.  It can make all the difference…
The difference a generation makes
Each generation of Ford Bronco packs a different punch. From body style to transmission to the engine, there were many changes from generation to generation. Make sure to research the differences in Ford Broncos before choosing the specific year or generation you plan to buy. If choosing based on the body style, which many people do because of the timeless body style of the first-generation Bronco, know exactly what you're getting into.
Sometimes being risky is fun, but not when you're looking to invest in a Ford Bronco. Let Maxlider Brothers Customs help with your search. Call/text us today at 331-308-BROS (2767).
More from Maxlider Brothers Customs
4 Door Bronco…The Road to SEMA: Episode 1 [VIDEO]
Maxlider's 4 Door 1966 Ford Bronco: an Inside Look
Buying a Classic Ford Bronco? 5 Questions to Ask
Have Questions? Interested in purchasing a classic Ford Bronco from Maxlider Brothers Customs? Call/text us today: 331-308-BROS (2767).